The only way to remove these invasive "backscatter X-ray" machines from the world's airports is by refusing to fly to or from an airport that has them. Market forces
will
prevail.

There

must

be a better way!
It should be noted that the explosive used in the attempted bombing of Northwest flight 253 on December 25, 2009, pentaerythritol tetranitrate (PETN), would not have been detected by this full-body backscatter X-Ray and "millimeter-wave screening". Depending on this intrusive, invasive, unnecessary invasion of privacy is putting air travelers at risk. There are better methods to protect the public, such as the politically incorrect practice of profiling. When will people realize how high the cost of political correctness is? The terrorists have won. They have manipulated us into making our lives hell.

I started flying on business trips in 1987. How things have changed. Back then, and all the way through the 90's, I routinely carried a small bag of tools with me. No problem if the pilot said OK. That's all it took. For all the "security" measured being imposed on us, are really any safer? When will common sense prevail?

A better way? The Israeli airline El Al, has developed a very successful program in which passengers are observed, profiled, and most importantly, questioned before boarding planes. TSA created a program known as SPOT (Screening of Passengers by Observation Techniques) that was supposed to be like El Al's. In the TSA program, it has hired what it calls

behavior detection officers

, who are to notice passengers who acted suspiciously. As of November 2010, TSA employs about 3,000 "behavior detection officers", stationed at about 160 airports across the US. The TSA is relies more on passenger humiliation than on practices that are proven staples of airport security. A General Accountability Office (GAO) study found that TSA "deployed SPOT nationwide without first validating the scientific basis for identifying suspicious passengers in an airport environment." Rep. John Mica (R), one of the authors of the original bill
that created the TSA is quoted as saying,
"It's not an Israeli model, it's a TSA, screwed-up model. It should actually be the person who's looking at the ticket and talking to the individual. Instead, they've hired people to stand around and observe, which is a bastardization of what should be done." Mica has also noted that the GAO "discovered that since the program's inception, at least 17 known terrorists ... have flown on 24 different occasions, passing through security at eight SPOT airports."


Recently, the media machine has sputtered to life, and are now insisting that air passengers don't mind the invasive body searches and peep show machines.



The Purpose of the Enhanced "Patdowns"



The TSA has adopted the intrusive, humiliating "pat-down" procedures, and has allowed all the pictures, public viewings, and media coverage in order to steer people into using full-body scanners-- where the the TSA agents can view the passenger's private parts, measure sizes, and save pictures they like. I can hear you yelling, "They can't save pictures!" Yeah, right. What if, for instance, they were to see a bomb strapped to someone's yingyang, don't you think they would have some way of saving that picture? And if they can save

that

picture, couldn't the TSA agent save any other image they chose to? What's to stop them, self-policing? Who's watching the watchers?

By the way, did you know that the TSA workers are soon going to be unionized? (As of November 13, 2010) Any expansion of the use of TSA agents and full body imaging machines would certainly please the union bosses as it would increase the dues going to the union coffers.

List of Airports known to be using backscatter X-ray
(NOTE: If you know of other airports, courts, stadiums, or other public buildings using this invasive, de-humanizing, invountary electronic strip search technology, please send a note to perpetualcommotion d0t com at gmail)
Europe
1. Amsterdam Schiphol
U.K. (1)
1. London Heathrow
U.S.A. (29) (Machines made by L-3 Comm. Holdings)
1. Albuquerque (Primary screening, L-3 Comm. Holdings Inc.)
2. Las Vegas McCarran
(Primary screening)
3. Miami
(Primary screening)
4. San Francisco (Primary screening)
5. Salt Lake City (Primary screening)
6. Tulsa OK (Primary screening)
7. Atlanta
(Secondary screening)
8. Baltimore
/Washington International Thurgood Marshall Airport
9.
Chicago O'Hare (Secondary screening, coming Q1 2010, initially in terminals
served by United Airlines and American Airlines as well as in the international
terminal)
10. Dallas
/Fort Worth (Secondary screening)
11. Denver
(Secondary screening)
12. Detroit
(Secondary screening)
13. Indianapolis
(Secondary screening)
14. Jacksonville
(Secondary screening)
15. Los Angeles
(Secondary screening)
16.
Phoenix Sky Harbor International Airport
(Secondary screening)
17.
Raleigh-Durham (Secondary screening)
18 Richmond, VA
(Secondary screening)
19. Tampa
(Secondary screening)
20. Washington Reagan National
(Secondary screening)
21. Boston Logan
22. Kansas City
23. San Jose
24. Oakland
25. Cincinatti
26. Columbus (Port Columbus)
27. San Diego
28. Fort Lauderdale
29. Charlotte Douglas

"Primary screening" means passengers go through the scans instead of a metal detector.
"Secondary screening" means it is used for passengers who set off a metal detector
Note: 2009 12 29 It is reported that 150 more are "on order" for U.S. airports, and 300 additional
units may be purchased in 2010.
Update: 2009 10 02 The T.S.A. reports that there are 317 of the "advanced imaging technology"
machines now in use at 65 airports around the country. About 500 should be online by
the end of the year, the agency said, and another 500 are expected to be installed next
year. Ultimately, the agency plans to have the new machines replace metal detectors at
all of the roughly 2,000 airport checkpoints. So, it seems that they will be unavoidable,
unless you "opt out" of traveling by air!
Body-scanning machines show images of people underneath their clothing are being installed in airports, rail stations, arenas, office buildings, courthouses, jails, embassies, as well as overseas border crossings, military checkpoints. The Transportation Security Administration initially called these "whole-body imagers" but has now labeled them "advanced imaging technology" units, AIT scanners -- also known as "nude body" or "whole body" scanners. Critics, of course, call them "strip-search machines", "naked scanner" machines, "virtual strip search", "porno-scanners" and "gropers." Physical groping by TSA agents during a pat down if one opts out of going through a
whole-body imager does not add to passenger contentment
.

The scanners bounce millimeter wave radio frequency energy (similar to that used in microwave ovens) off passengers to reveal intimate body parts. The images are detailed, clearly showing a person's gender. "You can actually see the sweat on someone's back."
However,
it is not clear if the scanners can see through plastic or rubber materials that resemble skin, so their purpose of
spotting plastic and ceramic weapons and explosives
could be defeated by wrapping very common materials that would effectively obscure details.

Wikipedia entry for "Full body scanner"

Other lists:
(I do not know the sources for the information)
Manufacturers:
Rapiscan Systems, Rapiscan Security Products, a unit of OSI Systems
AS&E (American Science and Engineering, Inc.) Z® Backscatter X-ray
Smiths Group PLC
Safran SA
L-3 Communications Holdings Inc
Trade names:
Homeland Security Secretary:

Janet Napolitano


Transportation Security Administration (TSA):
News:
KYW (radio)
May 16, 2005
TSA Moves Ahead With 'Peekaboo' X-Ray Machines
Backscatter X-Ray Images: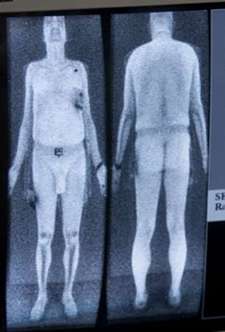 Links:
From U.S. FDA
(Powerpoint) (
PDF
)
~~~~~~~~~~~~~~~~~~~~~~~~~~~~~~~~~~~~~~~~~~~~~~~~~~~~~~~~~~~~~~~~~~~~~~~~~~~~~~~~~~~~~~~~~~~~
Home
Preface
Brain Failure
Notes
References pg. 1
References pg. 2
Nutritional Alternatives
Patricia's Protocol
Tauopathy Discussion Forum
Correspondence
Poems
********************************************************************************************
---
You shall not take that which belongs to another.
Blog
Blog Archive (June 15, 2007)
Blog Archive (January 23, 2006)
Perspectives I
Perspectives II
Backscatter X-Ray
Insanity
Conspiracies
Parables
Federalist Papers
The Gods of the Copybook Headings
Philip Dru: Administrator
PC Home
Main Page